Briwax Waxes

Briwax Original Wax
The easiest and most traditional finish for bare wood is wax. Briwax can be applied directly to the wood, and no other finish is required. Use clear wax if you like the wood natural, or try one of the coloured waxes.


The key to a good finish that's easy to polish is not to apply too much wax. You want to aim for a very thin coat of wax, otherwise you get streaking of the finish, or the wax will be very hard to buff up. Applying wax with 0000 steel wool helps to get a thinner coat of wax, and cleans any surface dirt off too. Once you have this very thin coat, buffing to a shine should be very easy.

Rub it on with a clean cloth. Use very fine steel wool or a clean shoe-brush to even out the colour (if required), then after a few minutes buff the surface with a cloth to bring up a deep shine. You can apply more than one coat to give more protection. Adding more wax at any time easily repairs the finish. Don't use too much at once; two thin coats are better than one.

For a detailed step-by-step guide to applying wax, click HERE.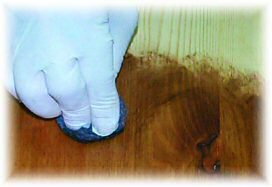 Briwax Original can also be applied over metals to prevent tarnishing (try it on scissors and secateurs) or on interior tiles and concrete to give a soft sheen, or to clean and restore old dull vinyl floor tiles, or on wooden floors to restore the finish. Apply with a cloth, allow to dry and buff up with a stiff brush. Briwax Original Wax contains Toluene, which is great for cleaning the existing surface as you wax. Toluene evaporates very quickly, leaving behind the hardened wax finish. However, it can soften some of the cheaper modern varnishes, so try an inconspicuous area first.

Wax Colours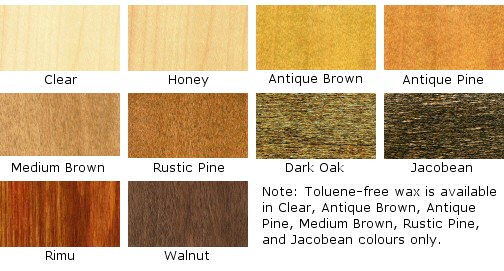 Maintenance
Normally, a quick buff with a cloth is all that's necessary. If you can't bring back the sheen by buffing, apply a little more wax with a cloth. If there are water marks on the surface, such as white rings, applying more wax should help remove them.
If you can't remove water rings with wax alone, try using Briwax Furniture Reviver.