Danish Oil and Teak Oil

Briwax Danish Oil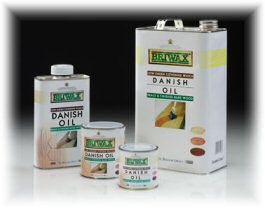 Briwax Oils penetrate, feed, and harden the fibres of bare wood, giving a durable water-resistant surface not prone to chipping or flaking. Use them on kitchen cupboards, bench tops, tables, chairs, floors, windows and doors, or any other wooden surface.

Danish Oil gives a matt finish, whereas Teak Oil is glossier. Apply Briwax Oils with a cloth (or use a brush or sponge for larger areas, and wipe over with a cloth to remove any brush marks). Allow overnight to dry, and sand between coats with fine (240 grit) sandpaper or 0000 grade steel wool in the direction of the grain.

Two thin coats are sufficient for most purposes on bare wood, but for kitchen worktops, floors, external doors and tables use four coats, which if applied carefully will give a water-resistant finish, even for hot cups of coffee! A coat of Briwax original wax over the top will give the Danish Oil a satin sheen, if you wish.

Unlike most other wood finishes, you can restore the finish at any stage in its life by wiping down with mineral turpentine, and applying another coat of oil.
On bare wood, if you want to change the colour, use a Briwax Spirit-based Dye. Apply it with a cloth, and allow about 20 minutes for it to dry. If you like the colour of the timber already, simply miss out this step and apply Briwax Oils directly to the bare wood.
For more details on how to apply Danish Oil and Teak Oil to a floor, see the How-To artice Protecting a Floor with Danish Oil.

Briwax Teak Oil
Teak Oil was formulated for use on Teak, which is notoriously hard to finish well. Although there is very little Teak in New Zealand, there is a great deal of a similar wood – Rimu. Teak Oil also gives a great result on other common woods such as Kwila and Kauri.
For most purposes, Teak Oil can be treated exactly the same as Danish Oil, except that the final finish is a high gloss. Apply at least two thin coats of Teak Oil. The more coats you use, the better the final gloss will be. Briwax Teak Oil is often used on outdoor furniture.
There are many copies of Teak Oil, and many alternative oil-based finishes including the traditional linseed and tung oil based products. However, most of these products are 'wet' oils – they never harden completely. This can leave them prone to collecting dirt. Briwax Teak Oil is a hardening oil. Once dry, it is durable and waterproof.
As with any clear finish, oils do not give complete protection from the harsh rays of the New Zealand sun. For outdoor furniture use a Briwax Spirit-based Dye first to give colour and protection, and a couple of coats of Teak Oil over the top.
For more detailed information, see How to revive faded outdoor furniture

Special notes for some applications
With very hard woods you can thin down the oils 10 to 15% with mineral turpentine to give better penetration. On Matai and Totara, apply Briwax Sanding Sealer first, which will stop the acids in the wood affecting the oil. Also use Shellac Sanding Sealer on customwood (after staining but before oiling) to prevent the oil reacting with the resins in customwood and giving off a lingering odour.
With old Kwila or Teak furniture, clean and sand down the old 'silvered' finish, try using the Antique Mahogany Spirit-based Dye, and then Teak Oil to bring the finish up like new. No brushes to clean!